---
Families in Law Enforcement

Dayton Police Honor Guard at Funeral of Fallen Officer
Members of the law enforcement community consider themselves "brother and sister" officers. A family-like bond develops among officers during the course of police careers, forged by experiences unlike those found in the "civilian" world. An esprit de corps takes shape beginning day one upon entering the training academy. When sworn into service, police officers become "partners", while on foot patrol and in cruisers, as they look after the welfare of those who live and travel on their beats. They lean on each other for support in times of crisis and death. They are family and remain close with each other and others in their profession long after their own active law enforcement careers have passed.
Given the nature of the profession, it is natural that the safety services also foster within its conventional families the passing of the badge from one generation to the next, father to son, shared by brothers. Today the profession branches from mother or father to daughter and son. Here are a few examples of dedicated families who have served the City of Dayton's Police Department… a measure of 250 years by nine Dayton police officers.
The Reed Family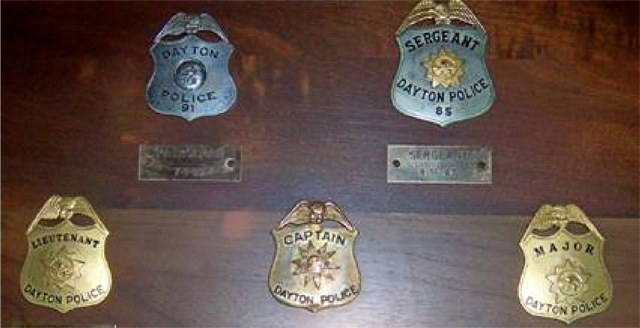 Display - Major Reed's Badges earned with each Promotion
The Reed family served a combined 100 years on the police force, beginning with Ptl. Robert Reed in 1939. Reed served the community for 40 years, eventually rising to the rank of Major. His two sons were Lieutenant Robert Reed, who was on the force for 31 years, and Detective James Reed, who was on the force for 29 years.
A 1971 the local newspaper article called Dayton police officer Robert Reed "the patriarch of the largest Dayton police dynasty". His career also made him a patriarch of the police force. Over a span 40 years, Ptl. Robert 'Pappy' Reed steadily rose in rank from Patrolman… to Sergeant… to Lieutenant… to Captain… and to Major without skipping any one level. He became one of the longest serving officers in Dayton police history. Had he remained in service two more months, his career would have touched 6 decades.
The Sammons Family

Newspaper Report on the Shooting of Ptl. Sammons
Sgt. Daniel Sammons was appointed to the police force in 1937 and served for 32 years. Early in his career Sammons was wounded in the line of duty. In spite of this, Sammons was joined on the force by his two sons. Lieutenant Michael Sammons served for 31 years, and his brother, Patrolman Tom Sammons served for 36 years. The Sammons family served a combined 99 years on the Dayton Police Department.
Four years after being appointed to the Dayton police force, Ptl. Daniel Sammons found himself facing danger in the early morning hours of May 1941 while his family was home asleep. Sons Thomas and Michael were ages 5 and 2 at the time. Ptl. Sammons and his partner were in a high-speed pursuit of "hold-up" suspects through downtown. The patrolmen were able to stop the car. A gun battle took place and Ptl. Sammons was shot. Both suspects were also shot and taken into custody.
The Grossnickle Family
Rare is the three-generation police family, such as the Grossnickle family. Lyle Grossnickle became a police officer in 1946, serving with distinction for 25 years. Son Larry, appointed in 1969, also served for 25 years as a patrol officer, detective, tactical team member and head of the homicide unit. Grandson Jason followed his father and grandfather, becoming a Dayton police officer in 1995. Jason paid the ultimate sacrifice, falling in the line of duty in 1996. The Grossnickle family served a combined 51 years with the police force.
In 1996, Officers 'Jake' Grossnickle and Rob Cleaver were walking from a parking lot to the Third District headquarters when they were ambushed by a man who had just committed a murder. Both officers were shot and wounded as a gun battle took place. The suspect was shot and killed. Off. Grossnickle died of his wounds. At a gravesite ceremony, he was honored with the Riderless Horse, the melancholy sounding of Taps, and the traditional 21-Gun Salute to a fallen officer.
---
Major Robert Reed, Sr. Sgt. Daniel Sammons Lt. Lyle Grossnickle
7-1-1939 to 11-18-1979 6-16-1937 to 8-1-1969 8-26-1946 to 8-25-1971
Lt. Robert Reed, Jr. Lt. Michael Sammons Sgt. Larry Grossnickle
6-28-1954 to 6-28-1985 3-14-1960 to 4-2-1991 12-22-1969 to 7-25-1996
Det. James Reed Ptl. Thomas Sammons Off. Jason Grossnickle
10-19-1959 to 6-6-1988 8-27-1962 to 8-12-1966 & 9-9-1995 to 5-23-1996
2-3-1969 to 10-4-2002
Return to Dayton Police History Home Page