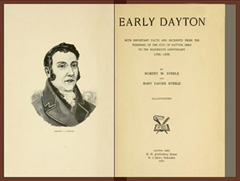 Be sure to check out our List of Articles about Dayton that appeared in magazines.
Address on Female Education
by Rev. J. W. Hall Copyright 1846
A paper read by Rev. Hall on the first anniversary of Cooper Female Academy
After A Year - Moraine Park School
by Moraine Park School Copyright 1918
An experimental high school in Dayton that didn't believe in grades, but focused on projects and interaction. It only lasted a few short years.

After the Deluge
by Packard Motor Car Company Copyright 1913
How the Packard Motor Car Company came to Dayton's rescue following the flood that hit the city in 1913.
The Anniversary Marj
by Marj Heyduck Copyright 1964
Starting in 1944 Marj Heyduck wrote a daily column for the Dayton Journal Hearld titled "Third and Main". This collection celebrates her twenty years of writing "Third and Main".
Annual Labor Review
Compiled by Herbert Lewis Copyright 1918
Short histories of hundreds of financial, industrial and commercial enterprises in the Miami Valley towards the end of World War I. Well worth reading the entire book.

Annual Report of the City of Dayton for the Year 1917
by the Dayton City Commision Copyright 1917
A report on the various Dayton Divisions, including Health, Recreation and Welfare, and how the city had changed due to America entering WWI.
The Backgrounds of Early Dayton History
by Professor W. B. Werthner Copyright 1928
A paper read by Professor Werthner before the Dayton Torch Club on November 13, 1928

Before the Flood
by Harry Rogers Copyright 1962
This manuscript tells of Harry Roger'slife as a child at the turn of the 20th century in Downtown Dayton
Permission to reprint this manuscript was given by William A. Rogers, Jr.

The Bench and Bar of Dayton
by Hon. Lewis B. GunkelCopyright 1900
The beginning of judicial administration in Dayton and anecotes about the city's first lawyers
The Best of Marj
by Marj Heyduck Copyright 1962
Marj Heyduck wrote a daily column for the Dayton Journal Hearld titled "Third and Main". This is a collection of her favorite writings.
Big Town
by Philip McGee Copyright 1931
Even though the "Big Town" is never mentioned by name, McGee's book is a factual account of Dayton at a time just after the beginnings of the Great Depression. A great read!
Biography of Dayton
by Joseph W. Sharts Copyright 1922
A quite unusual interpreation of Dayton's history through the eyes of the author, who seems to have been a member of the Miami Valley Socialist organization

Boyer's, the Circus & Other Historical Reminiscences
by Chip Boyer Copyright 2003 All Rights Reserved
An unusual history of Boyer's Mortuary, including the embalming of Barnum & Bailey's world-famous chimpanzee, Chiko
Text taken from original maunscript and reproduced here with the author's permission

A Boy's Impression of Dayton 64 Years Ago
by Michael Ohmer Copyright 1901
An exact copy of Ohmer's diary, in which he describes Dayton as it was in 1840

Business Men of Dayton 1905-1906
Compiled by Curt Dalton Copyright 1995 All Rights Reserved
Short biographies of important business men of Dayton, including B. J. Borchers and E. M. Mendenhall

Businesses and Advertisements of Dayton Circa 1889
edited by Curt Dalton Copyright 1996
Short histories of important businesses, including the Gem City Stove, National Cash Register and F. A. Requarth
By-laws and Roster of Old Guard Post, No. 23, G.A.R.
by Old Guard Post, No. 23, Dayton, O. Copyright 1889
This post was made up of Civil War veterans who fought for the Union during the Rebellion
Churches in Dayton
Author Unknown Copyright 1937
This informative piece covers the history of churches in Dayton from their beginnings in the city to 1937. To our knowledge this history, written as a WPA project during the Great Depression, has never been published.

Compilation of the Ordinances of the Common Council of the Town of Dayton


by Common Council

Copyright 1826
All the laws needed for a small town to function, from the keeping of gunpowder to the regulating of hogs running loose in the streets.
Constitution, By-Laws and Roll of Members of Independence Fire Engine and Hose Company, No. 1
by Independence Fire Engine and Hose Company Copyright 1835
Constitution, by-laws and names of members of Dayton's first volunteer fire department

Corridors of Light
by Eleanor G. Brown Copyright 1958
Written when she was 72 years old, this autobiography is an inspiring tale of how her blindness never slowed her down. Eleanor lived a long and radiant life, rich in public service as a teacher, a lecturer and an author.

Dayton - Being a Story of the Great Flood as Seen From the Delco Factory
Author unknown Copyright 1913
Describes the terrible damage caused by the flood that swept through Dayton during the week of March 24, 1913.

Dayton From the Air
by Walter Wyatt Snypp Copyright 1923
Describes Dayton as it was in 1923, including its parks, schools, railroads, flood dams and aviation fields
Dayton, Ohio - An Intimate History
by Charlotte Reeve Conover Copyright 1932
One of the best histories written on Dayton, which starts with the first settlers and carries on up to the beginning of the Great Depression.
Dayton Police History Exhibit - 2008
by retired Sgt. Steve Grismer Copyright 2008 All Rights Reserved
In 2008 a six-month exhibit opened at Carillon Park whose theme was "Patrolling the Streets of Dayton". The exhibit told the story of the Dayton police force using photographs, artifacts and text. The text for the exhibit has been reproduced here.
Reprinted here with permission of the author
Dayton in the Wars
Author unknown Copyright 1937
Written in 1937 as one of the WPA projects in Dayton during the Great Depression, the paper mostly covers from the Civil War to World War I.
Down Through the Years
by Winters National Bank Copyright 1921
A short history of Dayton from 1796 to 1921, as well as the first 107 years of Winters Bank

Early Dayton
by Robert W. Steele and Mary Davies Steele Published 1896
Important facts and incidents from the founding of the city of Dayton to the 100th Anniversary spanning the years 1796 to 1896

Early Printing in Dayton, Ohio
by Douglas C. McMurtrie Copyright 1935
A history of Dayton's early newspapers as well as booklets published in the city before 1835.

Education of Girls in Dayton Cooper Seminary
Author unknown Published 1911
A history of the prinicpals of Cooper Seminary from its beginning in 1844 to its end in 1886

An Essay on the Future Progress and Prospects of Dayton
by Simon Snyder Copyright 1853
A short study of how Dayton planned to become one of the most important cities in the world

Facts About Dayton
by the Dayton Chamber of Commerce & Dayton Industrial Association Copyright 1926
Facts on the city's transportation, labor and housing situation, and its industrial and public institutions
Firms and Manufactorie of Dayton Circa 1889
edited by Curt Dalton Copyright 1996
Short histories of important businesses, including the Dayton Journal, Dayton Stencil Works and the Excelsior Laundry
The Folks on Hole's Creek and Why We Joined Them
by A. A. Thomas Copyright 1915
A short history of Dayton and Oakwood. Includes information on John and Zacharia Hole
Foreigners in Dayton: An Investigation
by Alice M. Doren Copyright 1917
A study by the YWCA on how many foreigners were living in Dayton in 1917 and the various organizations that touched their lives and helped them.

From Dayton to the Argonne
by The Dayton Wright Airplane Company Copyright 1919
How the Dayton Wright Airplane Company evolved from the early efforts of the Wright Brothers to become the foremost producers of airplanes

Geology of Dayton and Vicinity
by Aug. S. Foerste Copyright 1915
Edward A. Deeds sponsored this wonderful book describing the chief points of geologic interest in and around the Dayton area.
German Day
by J. McLain Smith Copyright 1890
An address on the restriction of governmental interference toward personal rights.
Governor Cox's Speech
by Governor James M. Cox Copyright 1920
Governor Cox's speech on accepting Democratic nomination for President of the United States on August 7, 1920
Great Days In Dayton
by Philip McKee Copyright 1940
Transcripts of 26 radio broadcasts that aired on WHIO on the history of Dayton, from the town's beginning in 1796 to the near end of the Great Depression in 1941. The radio program was sponsored by Dayton Power and Light.

Guide to the Central National Soldiers' Home for Visitors and Citizens: with Sketches of Dayton
by The Guide Publishing Company Copyright 1891
Descriptions of the Soldiers' Home (now the VA Center) and other historical aspects of Dayton as well

The High School's Place in Education
by A. A. Thomas Copyright 1894
A paper read before the Alumni Association of the Steele High School, June 22, 1894

Historical Collctions of Ohio - Montgomery County section
by Henry Howe Copyright 1891
Henry Howe wrote a three volume set on the history of Ohio. The section on Montgomery County from Volume Two, pages 537 to 570, is reproduced here.

History of Dayton, Ohio
by Harvey W. Crew Copyright 1889
One of the best books written about Dayton that touches on many aspects of the city's history
The History of Glen Helen
By William Albert Galloway, A.M., M.D., LL.D. Copyright 1932
The history of Yellow Springs Glen, now known as Glen Helen

History of the Advance Club 1897 - 1922
Author Unknown Copyright 1922
The Advance Club's purpose was to enlighten women about modern events and literature. The group also helped better Dayton by working to raise money for charity and helping the Red Cross during World War I.

A History of the Barney & Smith Car Company
by H. M. Estabrook Copyright 1911
A history written by the Barney & Smith Car Company while at its peak, before the 1913 flood
History of the First Baptist Church
by Rev. Henry Francis Colby Copyright 1914
The story of the Baptist Church in Dayton, starting from the petitioning of land from Daniel C. Cooper in 1806 to 1914
History of the National Home for Disabled Soldiers
by Chaplain William Earnshaw Copyright 1875
One of the best accounts written about the Soldiers Home in Dayton, Ohio. Includes visitors to the Home and the various duties of the ex-soldiers that lived there.

History of the Police Department of Dayton, Ohio
Published by John C. Whitaker Copyright 1907
The Dayton Police Department from its earliest times to October 1, 1907
History of the VA Center
by Williard G. Hitchings Circa 1972
A short history of the VA Center located in Dayton, Ohio, from 1867 to 1972.

The House at 121-123 Brown Street
by Marguerite LeBreton Merz Copyright 1994 All Rights Reserved
How the author and her husband were ambushed into buying a house, and the fun she had researching its history.
Reprinted here by permission of the author
Illustrated History of the Dayton Fire Department
by J. E. Brelsford Copyright 1900
The first one hundred years of how fires were put out in Dayton, as well as a list of its biggest fires

Industrial Advance of Dayton, Ohio and Environs
by James. P. McKinney Copyright 1889
A history of the city and quite a few businesses and merchants in the city at the time. Quite informative. (Not yet complete)

Industries and Institutions of Dayton Circa 1889
edited by Curt Dalton Copyright 1995
Short histories of important industries and institutions, including Loew Brothers, Rikes and St. Elizabeth Hospital
The Kossuth Colony and Jacob D. Moskowitz
by Stanley R. Chicanowicz Copyright 1963
A tale of Hungarians who worked for the Barney & Smith Car Works and the controversial way they were treated, including being forced to live behind a fence and not allowed to buy outside of the colony.
Life and Confession of John M'Affee
by John McAffeeCopyright 1825
John McAffee murdered his wife and became the first murderer to be executed in Dayton

Life and Crimes of Francis Dick
by Dayton Gazette newspaper Copyright 1854
An account of the murder of Mrs. Young and her son, Jimmy, by Francis Dick in 1854

Life of Col. Edwin Franklin Brown
by Judge O. B. Brown Copyright (no date, believed to be about 1910)
Important figure during the Civil War, and first Governor of the Soldier's Home in Dayton
Low and Dry
by the Vocational English Class of Steele High School Copyright 1922
A rare account of the 1913 flood that devastated Dayton, written by high school students 9 years after the fact.
The Man Who Rivaled Edison in Number of Inventions
by James W. Beckman Copyright 1941
The story of Vincent G. Apple, who holds more patents than anyone else in Dayton.

Memoirs of the Miami Valley - Volume One
Edited by John C. Hover, and others Copyright 1919
First book in a three-volume set that tells the history of the Miami Valley. This volume's focus is on the settlement of the area, as well as the history of Logan, Shelby and Miami Counties.

Memoirs of the Miami Valley - Volume Two
Edited by John C. Hover, and others Copyright 1919
Second book in a three-volume set that tells the history of the Miami Valley. This volume's focus is on the history of Montgomery, Warren, Butler and Hamilton Counties.
Miami Conservancy District Court Report
by Colonel Edward Deeds Copyright 1944
Colonel Deeds was active in creating the Miami Conservancy and the building of the dams after the 1913 flood. This is his report on how, 25 years later, the dams were working fine and in perfect condition.
Miami Valley Chautauqua Then and Now
by Seymour S. Tibbals Copyright 1946
The history of the first fifty years of the beautiful community of Chautauqua, Ohio.

Montgomery County Business Directory 1893-94
Author and printer unknown Copyright 1893
Short history of Dayton, plus a list of merchants in Dayton and surrounding cities.

The Montgomery County Medical Society: Its Founders and Early Members
by W. J. Conklin, M.A., M.D. Copyright 1901
Continues the stories of Dayton's doctors that began in his "The Pioneer Doctor" speech given in 1900

Moraine Park School: A Statement of Policy 1922-1923
by Moraine Park School Copyright 1922
Experimental school in Moraine that ultimately failed, probably due to students not being prepared well enough for college

My Vision
by I. H. Ries Copyright 1913
A mournful poem about the flood that hit Dayton in 1913

National Asylum For Disabled Volunteer Soldiers - Report of 1867
by House of Representatives Published in 1868
Report of the creation of the Central Branch of the Soldiers Home in Dayton

The National Home For Disabled Volunteer Soldiers: A Memorandum
by George H. Wood Copyright 1917
Report of the Board of Managers of the Soldiers' Home on the many activities offered for the care and comfort of disabled veterans.

Odell's Dayton Directory and Business Advertiser
by James Odell, Jr. Copyright 1850
Dayton's first business directory included a brief sketch on the history of the city. Only the history section has been placed here.

The Old Red Brick Schoolhouse
Edited by Charlotte Reeve Conover Copyright (no date, but believed to be 1906)
History of the schoolhouse that was once located at the junction of Main & Brown Street
On Being Eighty
by Charlotte Reeve Conover Copyright 1938
Autobiographical stories by one of Dayton's best writers

The Patterson Log Cabin
by Charlotte Reeve Conover Copyright 1906
Essentially, the story of Robert Patterson's life and the move of the family cabin to Dayton from Lexington

Paul Laurence Dunbar - Poet Laureate of the Negro Race
by Alice M. Dunbar, Prof. W. S. Scarborough & Reverdy C. Ransom Copyright 1914
Biographic information about Dayton's most beloved poet, published after his death, with a section written by his wife, Alice

The Pioneer Doctor: A Medical Sketch of Early Dayton, 1796-1825
by W. J. Conklin, M.A., M.D. Copyright 1900
A speech commemorating the 50th Anniversary of the Montgomery County Medical Society

Pioneer Life in Dayton and Vicinity: 1796-1840
by John F. Edgar Copyright 1896
One of the most important reference books on Dayton's early history
The Progressive Democracy of James M. Cox
by Charles E. Morris Copyright 1920
Morris was the Secretary of Governor James M. Cox of Ohio , who wrote of why Cox should be elected President of the United States
Proposed Charter for the City of Dayton
by the Charter Commission Copyright 1913
Dayton charter outlining the responsibilities of city management and departments.

Public Libraries in Dayton, 1805-1914
by W. J. Conklin, M.D. Copyright 1914
A speech on the occasion of the opening of the Carnegie Branches, February 1914
Public Transportation in Dayton, Ohio: From 1870 to the Present
by Harvey I. Hylton Copyright 2007
A very informative look at the history of how people got around in the Gem City, from horses and mules to our modern day trolleys and diesel buses
Reprinted here with permission of the author

Reed's Illustrated History of Montgomery County
by H. S. Reed Copyright 1880
Includes histories of the county's townships and important business interests at the time

Report of General George H. Wood on the Dayton Flood of 1913
by General George H. Wood Copyright 1913
An overview of the military aspect of the Dayton flood, as reported by General Wood to Governor of Ohio, James M. Cox
Report on Proposed Park System for the City of Dayton
by Olmsted Brothers Copyright 1911
A wonderful document by the Olmsted Brothers, designers of Central Park in New York, written to convince the city to have them design a system of parks. Readers will recognize quite a few of the parks mentioned here.

Rike's Department Store Clothing Guideline
by Rike's Department Store Copyright 1968
A guide on how female employees were supposed to dress for work at Rike's in 1968.
Roll of Honor, Ohio's Rank and File From Montgomery County in War of the Rebellion
by H. H. Hardesty Copyright 1887
An alphabetical list of men from Montgomery County, Ohio who fought in the Civil War. The information varies per person, but can include when and where enlisted and with what companies, and when the person was discharged or died.

Rules and Regulations of the Division of Police, Dayton, Ohio
by Dayton Police Department Copyright 1920
Manual guide for policemen in 1920s. Lists duties, rules, police boxes, etc.

The Saturday Club of Dayton
by A. D. Wilt Copyright 1918
Short biographies of prominent men of Dayton who formed a literary club

The Shop that Became a Shrine
by Howard Egbert Copyright 1928
How the Wright Brother's bicycle shop in Dayton became a monument to flight

Short Stories of Science and Invention
by Charles F. Kettering Copyright 1942-1945
A collection of 59 talks on science and invention that Kettering gave during intermission of the General Motors Symphony of the Air radio show.
Some Dayton Saints and Prophets
by Charlotte Reeve Conover Copyright 1907
Short biographies of prominent men and women in Dayton in the 19th centuryMain". This was her third and final collection of columns in book form
Spark of Genius
by Delco Copyright 1949
The story of Delco and its role in the community.
Society of American Florists and Ornamental Horticulturists 22nd Annual Meeting
by Society of American Florists Copyright 1906
A story of landscape gardening work done by N.C.R., including the Boy's gardens
Story of the Miami Conservancy District
Compiled by C. N. Phillips, Office Engineer Copyright 1922
The story of how, after the 1913 flood, five dams were built to protect the Dayton area. The dams were completed on December 31, 1921.
The Story of Wayne Avenue in the 80's and 90's
by Edward P. Dies Copyright 1950
A wonderful account of the people and places on Wayne Avenue in the 1880s and 1890s.

Subscribers of the Dayton Telephone Exchange
by the Dayton Telephone Exchange Copyright 1881
A list of businesses and people who had telephones in Dayton in 1881, as well as instructions on how to use the service
Survey of Dayton Public Markets
by Bureau of Municipal Research Copyright 1914
A survey of where the markets were located, how many stalls were in use and who used them
The Third Marg
by Marg Heyduck Copyright 1966
Starting in 1944 Marj Heyduck wrote a daily column for the Dayton Journal Hearld titled "Third and Main". This collection was the third and last book based on her writings.
A Time of Terror
by Allan Eckert Copyright 1965
This book, described by Allan Eckert's website as "A thrilling minute-by-minute narrative historical account of the great disastrous flood that struck Dayton, Ohio, in April, 1913", is considered by many to be the best telling of this fantastic event. Our thanks to Allan W. Eckert for giving us permission to place the text of his great book about the 1913 flood onto the DHBO website.
Twenty-Five Years in a Dayton Pulpit
by Rev. Dr. Maurice E. Wilson Copyright 1919
A history of the First Presbyterian Church while under Rev. Wilson's guidance, 1890 to 1915

Unparalled Recipes for the Cure of Some of the Most Dreadful Diseases that Flesh is Subject to
by Daniel Detrick Written in 1846
Potions and prayers used to cure a variety of diseases for both man and beast in Dayton circa 1846

The Vindication of Squier and Deeds
by John K. Barnes Copyright 1921
The development and building of the Liberty engine for aircraft during World War One

The War As We See It Now
by A. A. Thomas Copyright 1909
A. A. Thomas' view of the Civil war and its key people 44 years after its ending
The Wright Brothers
by Fred C. Kelley Copyright 1943
The best-known biography of Orville and Wilbur Wright, authorized by Orville Wright himself.
Wright Field 1938
by Wright Field Materiel Division - U.S.Army Air Corps Copyright 1938
This wonderful booklet is full of photographs of Wright Field, airplanes and the Wright Brothers and includes a brief history of the Materiel Divison up to 1938, and a timeline of historical events that took place at McCook and Wright Field. Courtesy of Timothy R. Gaffney.